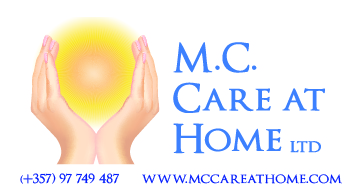 M.C. Care At Home Limited Provides Health Care In Your Home.
M.C. Care at Home Limited is a Cyprus registered and fully insured company which is led by Michelle Clarke who has over 40 years experience in the care industry and offers help to elderly, frail or disabled residents and to those just visiting our lovely island of Cyprus.
We are a fully independent company based in Paphos and pride ourselves in the reputation of a professional, reliable, caring and cost effective provider of care within the home.
Our philosophy is that every person is a unique individual, with the right to be in control of their own life, the right to remain in the comfort of their own home and to maintain their chosen lifestyle.
Thanks you very much for everything you did to help manage the details of my mother's passing. I greatly appreciate all your efforts and I feel that everything you did was both effective and professional.
I could not believe it when I slipped in the shower and broke the 12th vertebrae in my back. As I live alone, I would not have managed without all the help and care I received from your staff.
At very short notice, Michelle came to see me at Mesogi and given the situation with my mother aged 87, we agreed on two or three visits per day commencing on her release from hospital two days later.